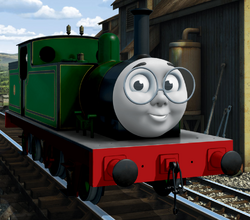 Whiff
Number: 19
Class: LNER X1
Designer: Wilson Worsdell
Builder: LNER Darlington Works
Built: 1937
Configuration: 2-2-4T
Whiff is a grubby green tank engine who works at the Waste Dump with Scruff. He is a replica of NER No. 66 "Aerolite".
Bio
Persona
Whiff is cheerful, optimistic and a bit nerdy. He enjoys his job of collecting rubbish and getting dirty. He doesn't seem to care what the other engines think about him: either that or he is oblivious to their opinions. Despite that, he is friendly and always does his jobs well. He is somewhat naive, as he didn't realise why the other engines tried to avoid him so much.
Livery
Whiff is painted in a dark green livery with black and yellow lining, and green wheels. He has round, red numberplates with the number "19" on the sides of his bunker.
Trivia
He has poor eyesight, so he wears a pair of specially constructed glasses.