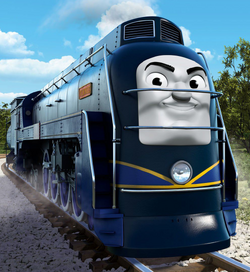 Vinnie
Number: 6407, originally 6404
Class: CNR U-4-a
Builder: Montreal Locomotive Works
Built: 1936
Scrapped: 1977
Configuration: 4-8-4
Vinnie was an Canadian engine who competed in the Great Railway Show. He was a competitor in the Strongest Engine competition.
Bio
Persona
Vinnie was very competitive with a reputation for being a bully and would do anything to win a competition, including cheating. He viewed smaller engines such as Thomas and Philip as inferior to him, often calling them derogatory names such as "Shrimp" (Thomas) and "Shortie" (Philip), and often took pleasure in bumping them around. Because of his vile behaviour, hardly any of the engines got along with him. He was also very reckless, as shown when he bashed through a pile of rocks, and Gina's flatbeds.
Despite his intimidating size and demeanour, Vinnie proved himself to be a coward in the face of greater adversity, as shown when he panicked after his accident at the Great Railway Show.
Livery
Vinnie was painted grey and dark blue with yellow lining and red trimming around his cab windows. He carried his number and name on plates on his smokebox and the sides of his footplate.
Trivia
Ad blocker interference detected!
Wikia is a free-to-use site that makes money from advertising. We have a modified experience for viewers using ad blockers

Wikia is not accessible if you've made further modifications. Remove the custom ad blocker rule(s) and the page will load as expected.