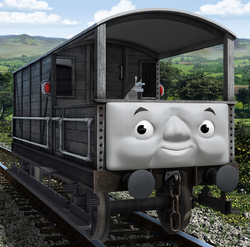 Toad
Number: GW 56831
Class: GWR 20-ton brakevan
Builder: GWR Swindon Works
Built: 1935
Arrived on Sodor: 1959
Toad is a Great Western brakevan who works on the Little Western. He escaped from scrap with Oliver. He usually works with Oliver, but occasionally works with Douglas.
Bio
Persona
Toad is a polite, gentlemanly brake van. He is also somewhat imaginative and a bit of an optimist. Toad minds his manners well and always quick to refer to the engines as "Mr.", "Miss", or "Sir". He escaped from scrap with Oliver, with some help from Douglas. Toad is very loyal, keeps Oliver's trucks in order, and has his best interests at heart. He has a cunning streak within him should the trucks cause any particular bother and does like fun when it comes his way, but he is typically calm, obedient and content in his work.
Livery
Toad is painted grey with "GW 56831" written on his sides in white
Trivia
Toad's name originates from a nickname ("toad") given to brake vans on the Great Western Railway.