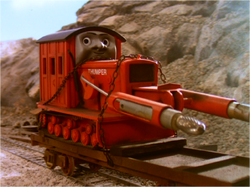 Thumper
Designer: Crovan's Gate Slate Company
Builder: Crovan's Gate Slate Company
Built: 1964
Thumper is a laid-back, narcoleptic, quarry machine commonly used for loosening rocks.
Bio
Persona
Thumper has been described as laid-back and just an overall cool dude. He often comes across as somewhat of a hippie, always making sure to not tread over flora or fauna. He is narcoleptic.
He initially had teething troubles and could be easily frustrated if something went wrong, although these have since been fixed.
Livery
Thumper is painted blood-red with his name painted on either side of his bonnet in white. His roof is painted black.
Ad blocker interference detected!
Wikia is a free-to-use site that makes money from advertising. We have a modified experience for viewers using ad blockers

Wikia is not accessible if you've made further modifications. Remove the custom ad blocker rule(s) and the page will load as expected.