"Bluebells forever!"
— Stepney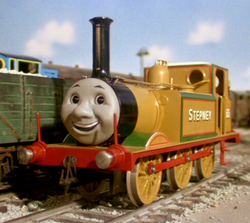 Stepney
Number: 55, formerly 655, B655, 2655 and 32655
Class: LB&SCR A1X "Terrier"
Designer: William Stroudley
Builder: Brighton Works
Built: 1875, rebuilt 1912
Configuration: 0-6-0T
Top Speed: 60 mph
Stepney, named after a district in London, is a famous tank engine from the Bluebell Railway in Suffolk.
Bio
Stepney was built in 1875 as a standard A1 for use on light London suburban services.
Persona
Stepney is a bubbly, honest and humble chap who is busting with enthusiasm. He is very eager to please and is every engine's friend. Even if an engine might not like him at first, his personality wins them over. After being saved from scrap by the Bluebell Railway, he now runs his own line, but loves visiting Sodor and helping out on the North Western Railway. He has an enthusiasm for learning, as well as keeping busy. Stepney can feel down in the dumps if he does not get enough work to do or if he does not get a good long run to stretch his wheels. Stepney is high-spirited, lively and is keen to see fair play. He is popular amongst the engines and is always game for more work. Under his somewhat youthfull exterior however, lies a very old and a very wise engine, with lots of experience and plenty of advice to give. Due to numerous hardships, he is a rather tough engine, though he still retains a friendly demeanour.
Livery
Stepney is usually painted in the LB&SCR goldenrod livery, formally known as "Stroudley's Improved Engine Green", with green, red, white and black lining. His name is painted on his side tanks and the number "55" is painted on the sides of his bunker, both in white. At times, he is painted in the "Bluebell Black" livery with red lining.
Trivia
Ad blocker interference detected!
Wikia is a free-to-use site that makes money from advertising. We have a modified experience for viewers using ad blockers

Wikia is not accessible if you've made further modifications. Remove the custom ad blocker rule(s) and the page will load as expected.