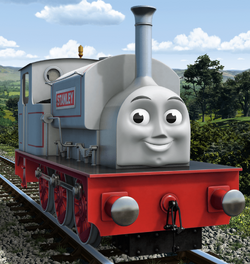 Stanley
Number: 21
Designer: Hudswell, Clarke & Co. Ltd.
Builder: Railway Foundry
Built: 1925
Configuration: 0-6-0ST
Arrived on Sodor: March 1968
Stanley is a grey tank engine who works on the Great Waterton Branch Line.
Biography
Personality
Stanley is the "boy-next-door" of the Fat Controller's Railway. Cocky, cool, and cheery, he is a little bit bigger, a little bit newer, and a little bit stronger than Thomas, which, at first, made Thomas jealous when all focus seemed to be on this shiny, new arrival, especially when he began helping with the restoration of Great Waterton. However, even Thomas was soon won over by Stanley's positive attitude, charm, and friendliness and came to see why he was so popular and well-liked among the other engines. As such, Thomas and Stanley are now firm friends. There is nothing Stanley would not do for another engine. And if he could not do it, he would find someone else who could. He is sleek, smart, and stylish and his silver and grey appearance, with striking red wheels and a shining smoke box certainly makes him look the part as he eagerly goes about his work.
Livery
Stanley is painted silver-grey with a metallic silver smoke box, red wheels and lining. The number "21" is painted in silver on the sides of his cab, and he has red nameplates with his name in silver on each side of his saddletank.
Trivia