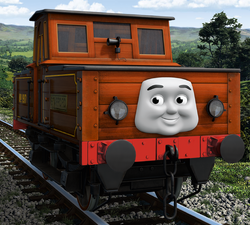 Stafford
Number: E1917
Designer: North Staffordshire Railway
Builder: NSR Stoke Works
Built: 1917
Configuration: 4w
Top Speed: 15 mph
Arrived on Sodor: 1972
Stafford is the North Western Railway's only battery-electric shunting engine. He works at Knapford Yards.
Bio
Stafford
Persona
Stafford is a humble, courteous little chap with a Staffordshire accent. He is a very different sort of engine from any other on the North Western Railway. This is because Stafford is an electric battery engine; he is not a steam engine or a diesel engine. Stafford is fuelled by recharging his battery, which needs to be done frequently so he can go about his work as a shunting engine. Stafford is very patient, calm and mannerly. He does not let the antics of the bigger, haughtier engines bother him too much, keeps level-headed as he goes about his day, and brushes off any troubles without much fuss. He is more than content with taking things slow and not having to travel long distances and he is more than proud to work on the Fat Controller's railway.
Livery
Stafford is made of veneered wood with yellow lining. The number "E1917" is painated on his sides, as are gold nameplates.
Trivia
A single charge of his battery lasts roughly six hours.