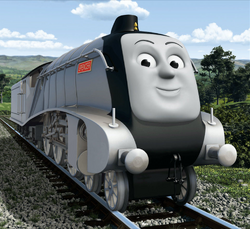 Spencer
Number: formerly 4904, 60035
Class: LNER A4 Pacific
Designer: Sir Nigel Gresley
Builder: LNER Doncaster Works
Built: July 1938
Configuration: 4-6-2
Top Speed: 126 mph
Spencer is a streamlined engine privately owned by the Duke and Duchess of Boxford. He is a cousin of Gordon and a younger brother of the world's fastest steam engine, Mallard. He has his own rake of Pullman coaches
Bio
Persona
Spencer is very arrogant and pompous and considers himself to be above doing menial duties such as shunting. Few of the engines like him. When he came to build the summer house, Spencer proved himself to be very nosey, sneaky, disobedient and rather neglectful. Despite being closely related, Gordon and Spencer have never gotten on very well with each other. This is mainly because of his pompous behaviour, which exceeds even that of Gordon's. However, he still has a kind side which is usally shown when he realises his mistakes.
When he was younger, he was known to be the most down to earth of his brothers and sisters.
Livery
Spencer is painted metallic silver with black lining. He has red nameplates with his name in gold.
In his LNER days, he was originally painted Garter Blue with red wheels before being repainted Wartime Black in 1941. In his BR days, he was painted in early BR dark blue livery before being painted in BR Passenger Green.
Trivia
Ad blocker interference detected!
Wikia is a free-to-use site that makes money from advertising. We have a modified experience for viewers using ad blockers

Wikia is not accessible if you've made further modifications. Remove the custom ad blocker rule(s) and the page will load as expected.