"Listen, Dukie. Who worries about a few spills?"
— Smudger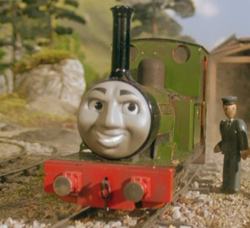 Smudger
Number: formerly MSR 2
Class: Fletcher Jennings Class Bb
Designer: Henry A. Fletcher
Builder: Fletcher, Jennings & Co.
Built: 1888, rebuilt 1904
Gauge: 2ft 3in
Configuration: 0-4-0WT
Arrived on Sodor: 1889
Smudger is a Mid Sodor Railway engine who was turned into a generator. His fate after the closure of the MSR is unknown.
Bio
Persona
Smudger was a complete show-off, rather arrogant and often derailed, but refused to listen to advice. Duke warned him to be careful, but he took no notice until he was put in his place by being turned into a generator.
Livery
Smudger was painted dark green with black lining. He has black and brass name and number plates on the sides of his boiler and coal bunkers respectively. After being turned into a generator, he was repainted black.
Trivia
Ad blocker interference detected!
Wikia is a free-to-use site that makes money from advertising. We have a modified experience for viewers using ad blockers

Wikia is not accessible if you've made further modifications. Remove the custom ad blocker rule(s) and the page will load as expected.