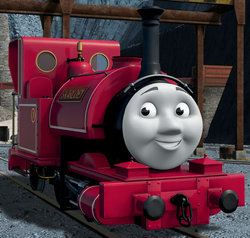 Skarloey
Number: SR 1
Class: Fletcher Jennings Class C
Designer: Henry A. Fletcher
Builder: Fletcher, Jennings & Co.
Built: 1864
Gauge: 2ft 3in
Configuration: 0-4-2ST, originally 0-4-0ST
Arrived on Sodor: 1865
Skarloey is a narrow gauge saddletank engine, and the the oldest engine on the Skarloey Railway. Talyllyn from the Talyllyn Railway is his twin, Rheneas is his brother and Dolgoch is his sister.
Bio
Skarloey was built at Fletcher, Jennings & Co. in Whitehaven alongside his twin Talyllyn. While Talyllyn was destined for a railway in Wales, Skarloey was destined to work on Sodor, and arrived on a ship at Kirk Ronan Harbour in 1865. He was transported by the S&M's Neil to Crovan's Gate, where he worked for a few months on his own before being joined by Rheneas.
Persona
Skarloey is the wise sage of the Skarloey Railway and is an old, faithful little engine. Although once full of enthusiasm and his own ideas in his youth, Skarloey is now one of the oldest engines on the Island. He is a calm-natured, quaint, and mature engine and may often try to guide or watch over less experienced narrow gauge engines in his firm but fair and friendly manner. He acts kindly to engines and passengers alike and always enjoys a gentle, smooth journey through the woods by the lakeside and stopping at all the gates and stiles he remembers so well. He is considered, and often acts like, the leader of the narrow gauge engines.
Livery
Skarloey is painted crimson red with white lining. He has red and gold name and number plates on the sides of his saddletank and coal bunkers respectively. He has brass rings around his funnel and buffers.
Trivia