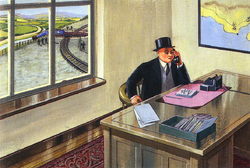 Sir Topham Hatt I
"The Fat Controller"
Born: June 1877
Died: August 1956
Spouse: Lady Jane Hatt
Married: May 1912
Sir Topham Hatt I, 1st Baronet, GCB, CBE, also known as "the Fat Controller" and originally called "the Fat Director", was the Chief Mechanical Engineer of the Tidmouth, Knapford & Elsbridge Railway and the General Manager of the North Western Railway.
Bio
Topham Hatt was born in 1877 to Bertram Hatt and Mary Hatt. In his youth Topham was apprenticed in the Great Western Railway's Swindon Works, alongside the famous Sir William Stanier. When he left Swindon he moved to Sodor where he was appointed Chief Mechanical Engineer to the Tidmouth, Knapford and Elsbridge Railway in 1904, the next year he designed the "Coffee Pots".
Family
Persona
Attire
Trivia
He was almost always accompanied by two men in standard blue railway uniforms. They are his assistants.
Ad blocker interference detected!
Wikia is a free-to-use site that makes money from advertising. We have a modified experience for viewers using ad blockers

Wikia is not accessible if you've made further modifications. Remove the custom ad blocker rule(s) and the page will load as expected.