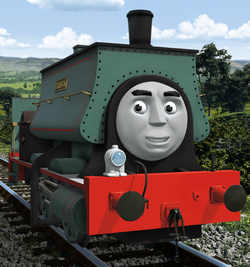 Samson
Number: 15
Builder: Neilson & Co.
Built: 1867
Configuration: 0-4-0ST
Arrived on Sodor: 1974
Samson is a strong cabless tank engine on the North Western Railway. He has a brake van named Bradford.
Bio
Persona
Livery
Samson is painted viridian with red lining. He has golden nameplates, number plates and handrails.
Trivia
He named himself after the Biblical figure Samson, who is known for being strong.
Ad blocker interference detected!
Wikia is a free-to-use site that makes money from advertising. We have a modified experience for viewers using ad blockers

Wikia is not accessible if you've made further modifications. Remove the custom ad blocker rule(s) and the page will load as expected.