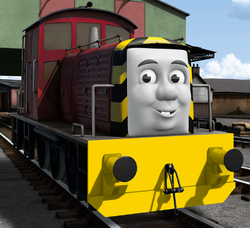 Salty
Number: D2992
Class: BR Class 07
Designer: Ruston & Hornsby
Builder: Ruston & Hornsby
Built: 1962
Configuration: 0-6-0
Top Speed: 27.5 mph
Arrived on Sodor: 1965
Salty is a dockyard diesel shunter who works at Brendam Docks on Edward's Branch Line, with Cranky and Porter.
Bio
Persona
Salty is easy-going, friendly and very practical. He also enjoys telling stories revolving around the sea and fantasy. His seafaring ways and accent are sometimes ridiculed by the other engines, but his usefulness almost always helps the others overlook that. He can work with trucks like no other engine; this is due to his enjoyment of working to a musical rhythm like the trucks and it may also be due to his vast collection of sea shanties. He loves the sea so much that he pines for it when he is away from it for long periods of time.
Livery
Salty is painted crimson with light red warning stripes along his body, yellow and black hazard stripes on his front and rear and yellow buffer beams with signs of rust. His name is painted on his rear section and his number is painted on his cab sides, both in black.
Trivia