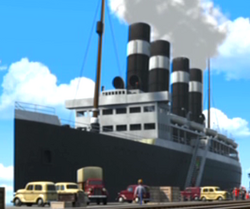 S.S. Roxstar
Class: Vienna-class ocean liner
Designer:
Builder: Tidside & Sudrian Coast Marine Co.
Built: 1960
Top Speed: 30 knots
The S.S. Roxstar is an ocean cruise liner, whose home port is Brendam Docks. She operates a transatlantic route between Sodor and Bigg City.
Bio
Livery
The S.S. Roxstar has a black hull, a white superstructure, and black and white funnels with a golden star on both sides. Her name is painted in black on her front.
Trivia
Ad blocker interference detected!
Wikia is a free-to-use site that makes money from advertising. We have a modified experience for viewers using ad blockers

Wikia is not accessible if you've made further modifications. Remove the custom ad blocker rule(s) and the page will load as expected.