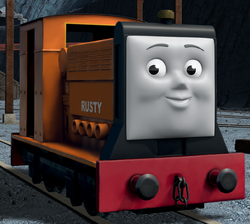 Rusty
Number: SR 5
Builder: Ruston & Hornsby
Built: 1957
Gauge: 2ft 3in
Configuration: 4w
Arrived on Sodor: 1957
Rusty is a diesel engine who does maintenance work and odd jobs on the Skarloey Railway.
Bio
Persona
Rusty is a trusty, tame and friendly little diesel. He is a dedicated worker, often maintaining the line, while understanding and respecting the importance of his duties. He also has a rather distinctive two-tone horn. Rusty is quick to remind others with regards to proper conduct, particularly Duncan, who was initially very suspicious of the little diesel. But despite their arguments they both seem to make amends in the end, because of how kind and tolerant Rusty is. He has a good working relationship with both Skarloey and Peter Sam in particular. Caring, calm, and quick-thinking, Rusty is modestly a credit to the Skarloey Railway
Livery
Rusty is painted "rusty" orange with yellow lining and white lettering.
Trivia
Ad blocker interference detected!
Wikia is a free-to-use site that makes money from advertising. We have a modified experience for viewers using ad blockers

Wikia is not accessible if you've made further modifications. Remove the custom ad blocker rule(s) and the page will load as expected.