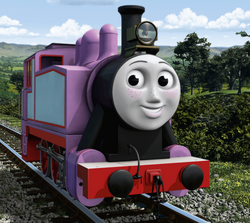 Rosie
Number: 18, formerly 1966, 71, 30071
Class: SR USA Class
Designer: Howard G. Hill
Builder: Vulcan Iron Works
Built: 1943
Configuration: 0-6-0T
Top Speed: 35 mph
Arrived on Sodor: 1967
Rosie is a dock tank engine that works at Knapford Harbour on Thomas' Branch Line. She also assists Percy with the branch's freight traffic.
Biography
Rosie was transferred to the North Western Region from the Southern Region in August 1967, following the end of steam there, to serve as station pilot at Tidmouth Station following the transfer of Duck to The Little Western.
Rosie was transferred to the Ffarquhar Branch Line in 1973 to serve as a shunter at the harbour and as a secondary freight engine, her duties as station pilot being taken over by Charlie.
Persona
Rosie is a friendly, respectful and helpful tank engine. She and Thomas like to have fun and also like to help each other when they are doing work, though her admiration of him occasionally get on his nerves. Rosie could be described as a feisty, energetic tomboy who is not afraid to work hard and get dirty.
Livery
Rosie is painted lavender with light grey tank panels, gold boiler bands, red lining and red wheels. The number "19" is painted on the sides of her tanks in yellow.
She was originally painted USATC black with white lettering and numbering. On the SR, she was painted SR black with yellow lettering and numbering. On British Rail, she was painted in BR's Departmental Malachite livery.
Trivia