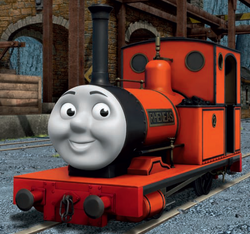 Rheneas
Number: SR 2
Class: Fletcher Jennings Class Bb
Designer: Henry A. Fletcher
Builder: Fletcher, Jennings & Co.
Built: 1866
Gauge: 2ft 3in
Configuration: 0-4-0WT
Arrived on Sodor: October 1866
Rheneas is a red narrow gauge well-tank engine and the Skarloey Railway's second engine. He is named after Rheneas, a waterfall served by a station on the Railway and is the younger brother of Skarloey.
Biography
Rheneas was built by Fletcher, Jennings & Co. in 1866, the same time as his twin Dolgoch. Dolgoch was sent to the Talyllyn Railway in Wales, while Rheneas was sent, by ship, to the Skarloey Railway on Sodor, where he met his brother, Skarloey.
Persona
Rheneas has been called a "gallant old engine" before and deserves such a title. Rheneas is highly determined, brave, courageous, and a long-time friend and brother of Skarloey. He is a tough, committed worker despite his age and takes great responsibility in his work. He is keen to keep his friends smiling and, although he is a level-headed engine, he can be a bit of an adventurer too. Though he may often try to struggle on alone, Rheneas knows when it is time to call on the help of his friends. Nevertheless, Rheneas is always highly dedicated to the task at hand.
Livery
Rheneas is painted vermilion with black lining and brass fittings. He has gold and black name and number plates on the sides of his boiler and coal bunkers respectively.
Trivia
His name means "Divided Waterfall" in Sudric.