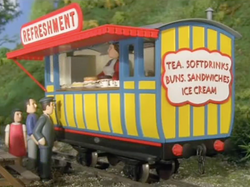 The Refreshment Coach
Built: circa 1900
Builder: Brown, Marshalls & Co.
Configuration: 4 wheel
The Refreshment Coach is a narrow gauge coach in a form of a shop that is used by the Refreshment Lady to sell refreshments on the Skarloey Railway.
History
The coach was built around 1900 by Brown, Marshals & Co. to a improved design of the the original Skarloey coaches to help with increasing passenger numbers. Around 1937, during the Skarloey's hard times, the coach was abandoned and eventually found use as a shed on a farm near Glennock. By the 1960s though, it was out of use.
In June 1967, Peter Sam tried to help the Refreshment Lady find a place for another tea room, with no success. Later, Rusty and Peter Sam discovered an old railway coach swept upon the tracks from a storm. Peter Sam had the idea to make a mobile tea room and with Jem Cole's help, the old coach was restored and modified with a kitchen and serving hatch. Peter Sam now proudly pulls the "Tea Shop Special" along the Skarloey Railway during summer time to places such as the Woodland Way, Rheneas Waterfall and the Ruined Castle.
Livery
The Refreshment Coach is painted yellow with blue and red lining. It has a red serving hatch on one side that has a white sign reading "REFRESHMENT" in red. One end has a cloud shaped sign listing the products sold.
It was probably originally painted in the Skarloey's white and blue coach livery.
Trivia
The Talyllyn Railway had a similar coach during the 1960s, though it was eventually reverted back to a standard coach.