"Long, long ago, there was an old engine called Proteus. His lamp was so bright it is said you could see it for miles around! Legends say it was a magic lamp. Proteus is said to have promised that if any engine found his lamp, their wishes would come true!"
— The Legend of Proteus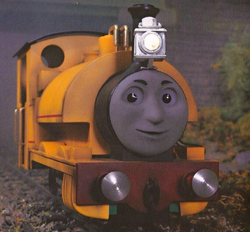 Proteus
Number: 3
Designer: Henry Hughes
Builder: Falcon Works
Built: 1878
Gauge: 2ft 3in
Configuration: 0-4-2ST
Proteus is a legendary narrow gauge tank engine, who is famed for having a "magic lamp".
Bio
Persona
Livery
Proteus is said to be painted bright yellow with red lining. He is said to have gold and silver nameplates on the sides of his saddletank and gold siderods.
Trivia
Ad blocker interference detected!
Wikia is a free-to-use site that makes money from advertising. We have a modified experience for viewers using ad blockers

Wikia is not accessible if you've made further modifications. Remove the custom ad blocker rule(s) and the page will load as expected.