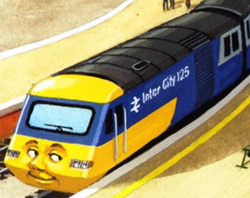 "Pip" and Emma
Numbers: D24 and D25, formerly 43 200 and 43 201, 254 038
Class: BR Class 43
Designer: BREL and Sir Kenneth Grange
Builder: BREL Crewe Works
Built: 1982
Configuration: Bo-Bo
Top Speed: 148 mph
Arrived on Sodor: 1987
Philippa, better known as "Pip", and Emma are twin high speed diesel locomotives who take the Wild Nor' Wester from Barrow to London.
Bio
Pip and Emma were built at Crewe in 1982 as a "last minute" addition to the original Class 43 order. They were intended to be a "spare" set of HSTs, and for their first 5 years of service, they only worked whenever other members of their class failed. In a ironic twist of fate they were known to have troublesome cooling systems.
In 1987, they were re-assigned to the Sudrian Express service. Since the withdrawal of steam, British Rail had neglected their part of the service. However after increased intrest in Sodor during the mid 1980s, BR decided, with Sir Stphen Topham Hatt's consent, to relaunch the service as a InterCity express. Due to the NWR still using steam engines, BR opted to refurbish Pip and Emma to the classic "InterCity" appearance. They were to meet Gordon, who runs the Sodor section of the service, at Barrow-in-Furness twice daily where his passengers, and any at Barrow, would be transfered to them, with them then taking the train to London.
On their first day, Gordon took a railtour to Carlisle, so Pip and Emma were asked to take the Express back to Tidmouth for him. Pip's cooling system was faulty, but Emma was in order and so off they went. Unfortunately, Emma failed near Crovan's Gate and James had to pull them the rest of the way. The engines were quick to befriend Pip and Emma, and after Gordon had returned, Douglas took them to the Vicarstown Dieselworks where the engineers were able to permanently fix their cooling systems. They stayed the night, before returning to service the next day.
Persona
Pip and Emma are kind, helpful and friendly. They quickly became good friends with the other engines, even those who were reluctant to trust diesels. Although they suffered problems with their cooling systems, they are efficient and reliable. Pip is a rather quite engine, and usually lets the more talkative Emma speak for the both of them. Unlike most fast engines, they are rather modest about their speed.
Livery
Pip and Emma are painted in the original InterCity 125 livery of yellow and blue. Their rear ends and their coaches are painted blue and grey. After they were bought by the Fat Controller, the words "InterCity 125" and the BR logo which were painted on their sides were replaced by "NWR" in white and red nameplates, with their name in gold.
Trivia
Ad blocker interference detected!
Wikia is a free-to-use site that makes money from advertising. We have a modified experience for viewers using ad blockers

Wikia is not accessible if you've made further modifications. Remove the custom ad blocker rule(s) and the page will load as expected.