"My name's Philip! Phi-lip. Like Philip! We can have a race if you like!"
— Philip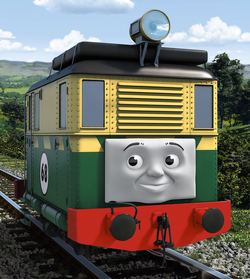 Philip
Number: D68
Class: PRR Class A6
Builder: Altoona Works
Built: 1930
Configuration: 4w
Top Speed: 20 mph
Arrived on Sodor: 1976
Philip is an energetic little diesel boxcab who works as a "switcher" at Knapford Yards.
Bio
Persona
Philip is a little diesel boxcab engine with a big personality. Philip is a comic character and a bit of a clown. He is very eager and full of enthusiasm and he has an innocent, but very overblown sense of his own capabilities. Philip can be very funny, but some of the bigger engines have very little patience for the little boxcab. Philip is strong and can pull lots of trucks, but not that many trucks compared to the really big engines. He is a fast shunter and likes to hurry about, but he is clearly not as fast as most of the other engines. But Philip's confidence is as big if not bigger than anyone's and he is always willing to try and definitely believes in himself. His actions and attitude soon won him many new friends on Sodor, especially Thomas and Percy, but Gordon and James find his bragging a little hard to accept. All in all, Philip reminds Edward of Thomas when he first came to the Island of Sodor.
Livery
Philip is painted green and yellow with the number "68" on his sides in black, surrounded by a white circle.
Trivia
Ad blocker interference detected!
Wikia is a free-to-use site that makes money from advertising. We have a modified experience for viewers using ad blockers

Wikia is not accessible if you've made further modifications. Remove the custom ad blocker rule(s) and the page will load as expected.