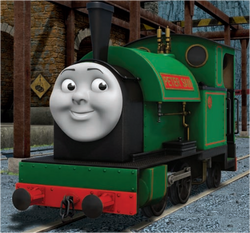 Peter Sam
Number: SR/MSR 4
Class: Kerr Stuart Tattoo
Designers: Kerr, Stuart & Co.
Builder: California Works
Built: 1920
Gauge: 2ft 3in
Configuration: 0-4-2ST
Peter Sam, originally named Stuart, is a green narrow gauge saddle tank engine and the fourth engine of the Skarloey Railway. He is named after Mr Peter Sam, a former Controller of the railway.
Biography
Persona
Peter Sam is highly enthusiastic, eager, and bubbly. He can occasionally be, and was especially in his youth, cheeky, teasing, and a little cocky but is kind-hearted, well-meaning, and good mannered. He can also be prone to being a little naïve at times and perhaps take things a little too literally. With an infectious attitude and high spirits, Peter Sam is almost kind and hard-working to a fault, seldom grumbling about late hours or extra work. He is always nice to the coaches and even the trucks. This puts him in contrast to Sir Handel, who has not taken Duke's teachings to heart.
Livery
Peter Sam is painted dark green with red lining and brass fittings. He has red and gold name and number plates on the sides of his saddletank and coal bunkers respectively. While on the Mid Sodor Railway, he lacked lining.
Trivia