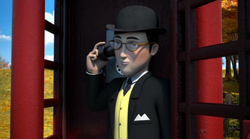 Mr. Peregrine Percival
"The Thin Controller"
Born: 11th September 1948
Spouse: Mrs Polly Percival
Mr Peregrine Percival, nicknamed "The Thin Controller" is the former General Manager of the Skarloey Railway, serving between 1980 and 2012. Despite being in charge of a railway, his favourite mode of transportation was his old bicycle.
Biography
Peregrine Percival was born to Patrick and Pansy (nee Bowler) Percival, both of whom were Skarloey Railway employees, running Glennock Station. He was an only child. He would attend the local Glennock Junior School from 1951 until 1959, when he moved up to the Sir Handel Brown Senior School in Crovan's Gate, which he attended until turning 16 in 1964. In 1963, he began working part-time on the Skarloey Railway as the Porter at Glennock, where he stayed until 1966.
In 1966, Peregrine was offered the position of Booking Clerk at Crovan's Gate, a significant promotion. During his time at Crovan's Gate, he forged a friendship with Roger Sam, the railway's General Manager who became a mentor to the young man. In 1970, he was appointed Roger Sam's assistant, and it quickly became apparent that he was grooming Peregrine to be his successor
Persona
Family
Attire
Peregrine Percival's usual attire was black lounge dress, consisting of a black suit jacket, yellow waistcoat, white shirt, black tie and grey formal trousers. He wore a black bowler hat and a brown pair of glasses.
Trivia