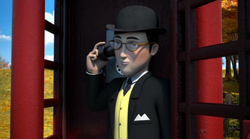 Mr. Peregrine Percival
"The Thin Controller"
Born: 1920
Died: 2008
Spouse: Mrs Polly Percival
Mr Peregrine Percival, nicknamed "The Thin Controller" was the manager of the Skarloey Railway. Despite being in charge of a railway, his favourite mode of transportation was his old bicycle.
Biography
Peregrine Percival was born to Patrick and Pansy (nee Bowler) Percival, both of whom were Skarloey Railway employees, running Glennock Station. He was an only child. He would attend the local Glennock School from 1925 until 1938, with the last four years being part-time education. During his childhood, he would help his parents around the station for pocket money, and he became the station's Porter upon completion of his full-time education in 1934.
In 1939, upon the outbreak of the Second World War, he attempted to enlist in the Sodor Regiment, but was deemed unfit for service. Many other railwaymen on the Skarloey were did enlist, and the railway was quickly short on manpower, so Peregrine transferred to Crovan's Gate Station as its Booking Clerk. The station was run by a skeleton staff of
Persona
Family
Attire
Peregrine Percival's usual attire was black lounge dress, consisting of a black suit jacket, yellow waistcoat, white shirt, black tie and grey formal trousers. He wore a black bowler hat and a brown pair of glasses.
Trivia