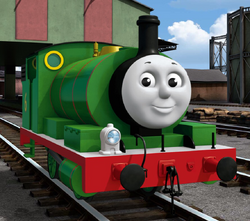 Percy
Number: 6
Designer: Avonside Engine Company
Builder: Avonside Locomotive Works
Built: unknown, c.1920s
Configuration: 0-4-0ST
Top Speed: 30 mph
Arrived on Sodor: 1932
Percy is a green saddle-tank engine on the North Western Railway who works on Thomas' Branch Line as a goods engine. His favourite job is to deliver the Post Train. 
Biography
Details of Percy's life before coming to Sodor are mostly unknown. He was built by the Avonside Locomotive Company at their Fishponds works in Bristol and then saw extensive use in several industrial sites across England, during which he was modified with parts from sever other locomotive manufacturers, predominantly Hunslets of Leeds. During this time, he was nameless and was referred to by his number. In 1932, he found his way back to his manufacturer. The company was in decline due to the Great Depression, and he along with several "display" locomotives and some from cancelled orders were put up for sale. Luckily, Sir Topham Hatt soon came to the Avonside Works looking for a shunting locomotive and picked Percy, naming him after his late predecessor as General Manager of the NWR, Percy Onchan.
Persona
Livery
Percy is painted in the NWR green livery with red and yellow lining and a brass dome. The number "6" is painted on the sides of his bunker in yellow.
Trivia