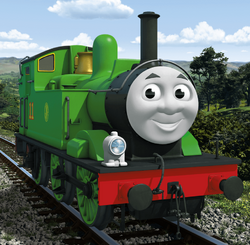 Oliver
Number: 11, formerly 1436, 4836
Class: GWR 14xx
Designer: Charles B. Collett
Builder: GWR Swindon Works
Built: August 1934
Configuration: 0-4-2T
Top Speed: 70 mph
Arrived on Sodor: April 1959
Oliver is a Great Western auto tank engine who on the North Western Railway. He works on The Little Western with Duck and lives at Arlesburgh West Shed. He has two autocoaches named Isabel and Dulciel, and a brake van named Toad.
Biography
He was rescued by Douglas from scrap.
Persona
Despite previous heroism and daring feats, Oliver is an engine who is willing to admit every day is a learning curve. When he was still new to Sodor, he let the other engines' responses to his courage, resource and sagacity from his amazing recounts of daring escapes and adventures get to his smokebox and he became conceited. However, when troublesome trucks pushed him into the turntable well, he grew into a much more humble, settled engine and was far warier of trucks. But later, with some help from his brake van Toad, he did gain much respect and authority among the trucks when he showed his strength with the ringleader of the trucks, S.C. Ruffey. Oliver still has gumption, but is now a more obedient, sensible engine. He feels his responsibility on the railway deeply, is ever thankful for being aided in his escape from scrap by Douglas and is a trustworthy, tenacious, plucky engine. However, he does occasionally have one or two temper problems and grumbles quite easily, but despite this setback, Oliver is still one of the more really useful and well-behaved engines on Sodor.
Livery
Oliver is painted in the 1934 GWR Brunswick green livery with yellow lining, black footplate and a brass safety valve. He has the GWR crest painted on his side tanks and the number "11" is painted on the sides of his cab in yellow.
Before he came to Sodor, Oliver was painted in BR unlined Brunswick green with the BR crest on his side tanks. He had brass GWR numberplates.
Trivia