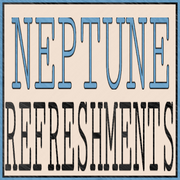 Neptune Refreshments is a chain of cafés founded by Ceinwen Neptune, "the Refreshment Lady" in 1932. Its main stall is located at Lakeside and it runs cafés at several stations on the Sudrian railways.
History
Operations
The company has branches at:
Lakeside
Cros-ny-Curin
Arlesburgh
Norramby Beach
Culdee Fell Summit
Skarloey Station
Crovan's Gate Station
Wellsworth Station
Maron Station
During summer time, the company also operates a "Tea Shop Special" using a refurbished coach on the Skarloey Railway, usually pulled by Peter Sam..
Engines and Rolling Stock
Trivia
Ad blocker interference detected!
Wikia is a free-to-use site that makes money from advertising. We have a modified experience for viewers using ad blockers

Wikia is not accessible if you've made further modifications. Remove the custom ad blocker rule(s) and the page will load as expected.