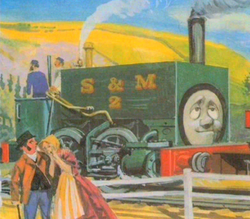 Neil
Number: S&M 2
Designer: Neilson & Co.
Builder: Hyde Park Works
Built: 1856
Restored: 1994
Configuration: 0-4-0BT
Top Speed: 20 mph
Arrived on Sodor: 1857
Neil is a box tank engine that worked on, and is the sole survivor of, the Sodor & Mainland Railway. He now works on the Ulfstead Estate Railway.
Bio
Neil was built in Scotland in 1856 by Neilson & Co.
Persona
Neil is a kind and humble engine who will never turn down any job and will always help anyone in need, despite being abandoned for years, Neil has always retained a cheerful personality. Skarloey describes him as "Ugly, but kind". Despite occasionally being teased for being ugly, he knows that looks are not always important, and do not affect his usefulness.
Livery
Neil is painted in the Sodor & Mainland Railway's dark green livery with dark yellow lettering reading "S & M", with the number "2" underneath. Upon arriving on the Estate Railway, the Earl's Crest was painted on either side of his cab.
Trivia