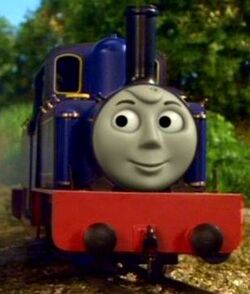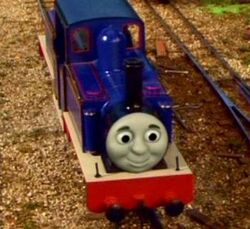 Mighty Mac
Class: FR Double Fairlie
Number: SR 11
Builder: Boston Lodge
Built: 1966
Gauge: 2ft 3in
Configuration: 0-4-4-0T
Mighty Mac is a Double Fairlie engine that works on the Skarloey Railway. They are the railway's strongest engine.
Bio
In the mid 1960s, as traffic increased, the Skarloey Railway realised it needed a locomotive much stronger than any currently in its fleet. It was decided to build a Double Fairlie locomotive which had proven very successful on the Ffestiniog Railway.
Plans from 1886 were revised and improved by the FRs engineers and the Skarloey's own Mr. Hugh, with the locomotive then built at Boston Lodge, with some components provided by the Crovan's Gate Steamworks. The new engine was named Mighty Mac, with each end taking half to name himself. Mighty's end was completed a few weeks before Mac's.
Mighty Mac was then trialed in a shunting yard were they proved very successful, they were then sent to Sodor.
Persona
Mighty is the older half of the two, and is distinguished by a flick of hair. He is usally the leader of the two and dislikes when Mac challenges this. He is very proud of their strength. He is also reluctant to admit when he alone is responsible for mistakes.
Mac is the younger half of the two, and is distungished by his more youthful features and freckled cheeks. While he is generally content to follow Mighty's lead, if he thinks his way is better he will usally rebel. He's more easy going and friendly than Mighty.
While they commonly argue amongst themselves, especially if they disagree on how to do work, they both know they need to work together to be Really Useful Engines.
Livery
Mighty Mac is painted royal blue with yellow and red lining. On Mighty's side, his cab windows and water tank caps are lined with yellow, while on Mac's side, they're lined with red. Brass plaques with their name and "FAIRLIE'S PATENT" are on the side tanks of either end.
Trivia