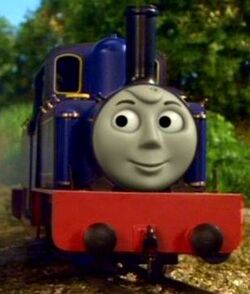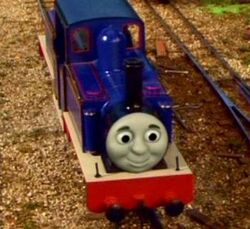 Mighty Mac
Class: FR Double Fairlie
Number: SR 11
Designer: Ivo Hugh
Builder: Crovan's Gate Works
Built: 1974
Gauge: 2ft 3in
Configuration: 0-4-4-0T
Top Speed: 50 mph
Mighty Mac is a Double Fairlie engine that works on the Skarloey Railway. They are the railway's strongest engine.
Biography
By the early 1970s, traffic had increased greatly on the Skarloey Railway, and growth was protected to continue. Following a report by Roger Sam, the Board of Directors approved either the purchase or construction of a new locomotive in 1972. Responsibility for the project was given to Ivo Hugh, who concluded that they would need a locomotive far stronger than any they could acquire, so attention quickly turned to preparing facilities to build it; as the job would be too big for the Skarloey's own engineering shops the North Western Railway gave them use of its works. On the recommendation of The Rev. W. Awdry, the Skarloey opted to construct a Double Fairlie locomotive, which had successfully used on the Ffestiniog Railway.
The Reverend was able to arrange a meeting between representatives of the Skarloey and the Ffestiniog management.
Persona
Mighty is the older half of the two, and is distinguished by a flick of hair. He is usally the leader of the two and dislikes when Mac challenges this. He is very proud of their strength. He is also reluctant to admit when he alone is responsible for mistakes.
Mac is the younger half of the two, and is distungished by his more youthful features and freckled cheeks. While he is generally content to follow Mighty's lead, if he thinks his way is better he will usally rebel. He's more easy going and friendly than Mighty.
While they commonly argue amongst themselves, especially if they disagree on how to do work, they both know they need to work together to be Really Useful Engines.
Livery
Mighty Mac is painted royal blue with yellow and red lining. On Mighty's side, his cab windows and water tank caps are lined with yellow, while on Mac's side, they're lined with red. Brass plaques with their name and "FAIRLIE'S PATENT" are on the side tanks of either end.
Trivia