"I'm invisible, or can't you see? Who said that, you ask. Its only me! You look surprised, but have no fear. Its just a little trick to make myself... disappear!"
— Merlin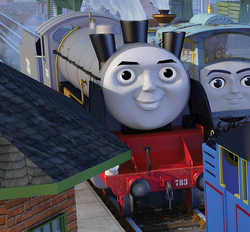 Merlin
Number: 783, formerly 30783
Class: LSWR N15/SR "King Arthur"
Designer: Richard Maunsell
Builder: North British Locomotive Co.
Built: August 1925
Configuration: 4-6-0
Top Speed: 60 mph
Merlin, originally named Sir Gillemere, is an experimental engine.
Bio
Persona
Livery
Merlin is painted grey with red lining and brass fittings. The number "783" is painted on his front buffer beam and the sides of his tender in white.
Trivia
Ad blocker interference detected!
Wikia is a free-to-use site that makes money from advertising. We have a modified experience for viewers using ad blockers

Wikia is not accessible if you've made further modifications. Remove the custom ad blocker rule(s) and the page will load as expected.