"I like to dig up, I like to dig down, I like to dig up treasure that's never been found!"
— Marion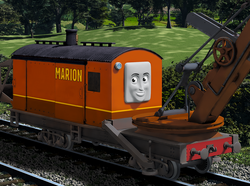 Marion
Class: Marion Model 40
Builder: Marion Steam Shovel Company
Built: circa 1911
Configuration: Bo-Bo
Top Speed: 40 mph
Arrived on Sodor: 1972
Marion is a self-propelled steam shovel. She usually works at the China Clay Pits with Timothy, Bill and Ben.
Bio
Persona
Marion is very enthusiastic and likes to think of herself as well-informed and is happy to share her knowledge. She is very talkative and loves to tell stories of her discoveries. However, not all the engines prefer to stick around and hear her stories. She acts motherly to the three engines who work with her and, despite her enthusiastic demeanour, she can also be rather stern, especially when dealing with Bill and Ben's antics.
Livery
Marion is painted orange and light brown with yellow lining. She has her name painted on her sides in yellow.
Trivia
She, apparently, has a rock collection.
Ad blocker interference detected!
Wikia is a free-to-use site that makes money from advertising. We have a modified experience for viewers using ad blockers

Wikia is not accessible if you've made further modifications. Remove the custom ad blocker rule(s) and the page will load as expected.