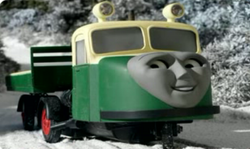 Madge
Registration number: SRW 065
Class: Scammell Scarab
Builder: Scammell Lorries Ltd.
Built: 1964
Madge is a green snub-nosed lorry with a three-wheeled cab and a flatbed. She usally works alongside the route of the Skarloey Railway.
Bio
Persona
Livery
Madge is painted green along her trailer and the bottom half of her cab, whilst the top half of her cab and her headlights are cream.
Trivia
Ad blocker interference detected!
Wikia is a free-to-use site that makes money from advertising. We have a modified experience for viewers using ad blockers

Wikia is not accessible if you've made further modifications. Remove the custom ad blocker rule(s) and the page will load as expected.