"I only look like a diesel, Gordon. I'm a steam engine, a shunter..."
— Logan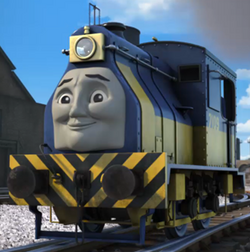 Logan
Number: 7190, formerly 101 and 47190
Class: S&DJR Sentinel
Designer: Sentinel Waggon Works Ltd.
Builder: Sentinel Waggon Works
Built: 1929
Configuration: 0-4-0VBT
Top Speed: 20 mph
Arrived on Sodor: 1963
Logan is a Sentinel steam shunter who looks like a diesel. He works for the Crosby Coal Company at the Coaling Plant.
Bio
Logan, along with his brother, 101, were built in 1929 for the Somerset & Dorset Joint Railway and was used to shunt coal wagons on the colliery branchlines around Radstock. A year later, he and his brother were taken into LMS stock.
They continued in their job past nationalisation in 1948, when they became BR stock, until 1959 when 101, now numbered 47191, was withdrawn and scrapped shortly thereafter. Logan followed two years later, in 1961. Luckily, however, Logan was saved from scrap by being purchased by the Crosby Coal Company.
Persona
Logan is a rough and tumble, strong little shunter and is very friendly and hardworking. He can be somewhat impatient and can easily make mistakes, but he always does his best to correct them.
Livery
Logan is painted navy blue and yellow with black hazard stripes on his bufferbeam. His name is painted on the sides of his boiler in blue and the number "7190" is painted on the sides of his cab in yellow.
Before being purchased by the Crosby Coal Company, he was painted unlined black with his number and the logo of his owner painted on the sides of his cab.
Trivia
Ad blocker interference detected!
Wikia is a free-to-use site that makes money from advertising. We have a modified experience for viewers using ad blockers

Wikia is not accessible if you've made further modifications. Remove the custom ad blocker rule(s) and the page will load as expected.