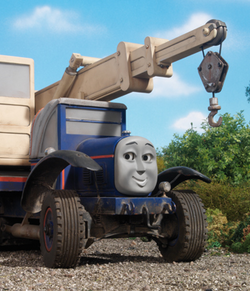 Kelly
Number: 17
Builder: Austin Motor Company
Built: 1937
Kelly is a mobile crane. He is one of the oldest member of the Pack and originally belonged to Miss Jenny's father.
Bio
Persona
Livery
Kelly is painted navy blue with a cream crane arm and red lining. His wheels are navy blue with red rims. He has the number "17" painted on his sides in white.
Trivia
Ad blocker interference detected!
Wikia is a free-to-use site that makes money from advertising. We have a modified experience for viewers using ad blockers

Wikia is not accessible if you've made further modifications. Remove the custom ad blocker rule(s) and the page will load as expected.