"Judy!"
"Jerome?"
"Emergency!"
— Jerome and Judy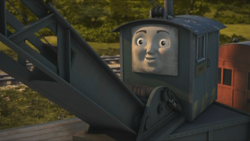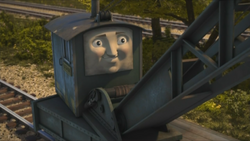 Judy and Jerome
Class: Cowans Sheldon 30 ton breakdown cranes
Builder: Cowans Sheldon
Built: 1906
Arrived on Sodor: 1915
Judy and Jerome are twin breakdown cranes. They form the main part of the Brakedown Train. They are based at Arlesburgh Yard.
Bio
Persona
Judy and Jerome are both heavy sleepers, but they take their jobs very seriously, usually only awaking if there is an emergency (or if they think there is). The two are also very talkative. They are always ready for an emergency and respond with zeal and vigour. They enjoy working hard and cab get easily bored.
Livery
Judy and Jerome are painted dark green-grey with yellow hazard stripes along their sides. They have brass nameplates on the sides of their cabs.
Trivia