"Road or rail, what do I care?"
— Jock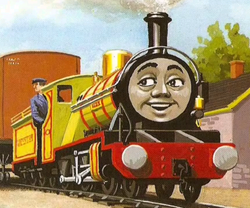 Jock
Designer: Ivan Farrier
Builder: Arlesburgh Works
Built: 1976
Gauge: 15 inch
Configuration: 2-6-2
Jock, named by Douglas for his yellow-green livery, is the newest steam engine on the Arlesdale Railway, and the strongest.
Bio
Persona
Jock was rather cocky when he was first built, as a result of being rather strong, but soon learned the value of teamwork when Mike's injector failed and he had to pull Mike and his train single-handedly.
Livery
Jock is painted in the Highland Railway chartreuse yellow livery with red lining. He has a brass dome, brass builders plates on the sides of his cab, red nameplates with gold writing mounted on each side of his boiler and "ARLESDALE" written on the sides of his tender in yellow.
Trivia
Ad blocker interference detected!
Wikia is a free-to-use site that makes money from advertising. We have a modified experience for viewers using ad blockers

Wikia is not accessible if you've made further modifications. Remove the custom ad blocker rule(s) and the page will load as expected.