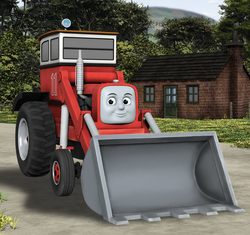 Jack
Number: 11
Builder: International Harvester
Built: 1963
Jack is a friendly and enthusiastic front loader who is part of The Pack.
Bio
Jack is the friendliest froant loader the Island has ever seen. He and his construction crew work on projects all over Sodor. He has a bucket at the front and a bucket at the back. Jack loves his job and is eager to please. When he first arrived on Sodor, his job was to clear room for railway lines with Alfie. Jack worked well with Alfie, but soon ran into trouble trying to do too much. Jack learned his lesson, and made things better by holding up a collapsing bridge until Thomas had passed over. He hurt his arms, but they were quickly repaired. Jack is now one of the Pack.
Persona
Livery
Jack is painted red with the top half of his cab painted cab, his back wheel alloys painted grey and his front wheel alloys painted red. He has the number "11" painted on the sides of his cab in white.
Trivia
Ad blocker interference detected!
Wikia is a free-to-use site that makes money from advertising. We have a modified experience for viewers using ad blockers

Wikia is not accessible if you've made further modifications. Remove the custom ad blocker rule(s) and the page will load as expected.