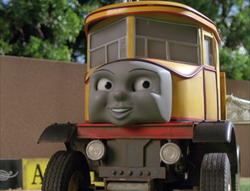 Isobella
Registration Number:
Number: 22
Class: Sentinel DG4 steam lorry
Builder: Sentinel Waggon Works
Built: 1931
Isobella is a yellow steam lorry who is part of the Pack. Her older sister is Elizabeth.
Bio
Persona
Livery
Isobella is painted yellow with red lining. She has the number "22" painted on her sides in red.
Trivia
Ad blocker interference detected!
Wikia is a free-to-use site that makes money from advertising. We have a modified experience for viewers using ad blockers

Wikia is not accessible if you've made further modifications. Remove the custom ad blocker rule(s) and the page will load as expected.