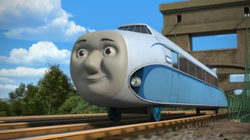 Hugo
Class: Schienenzeppelin
Designer: Franz Kruckenberg
Builder: Hannover-Leinhausen
Built: 1929
Top Speed: 143 mph
Arrived on Sodor: 1977
Hugo is a German propeller-powered railcar.
Bio
Persona
Livery
Hugo is painted silver, with a two-tone blue strip beneath his windows and a thin blue stripe above them. He has blue nameplates on the sides of his cab with his name in white.
Trivia
Ad blocker interference detected!
Wikia is a free-to-use site that makes money from advertising. We have a modified experience for viewers using ad blockers

Wikia is not accessible if you've made further modifications. Remove the custom ad blocker rule(s) and the page will load as expected.