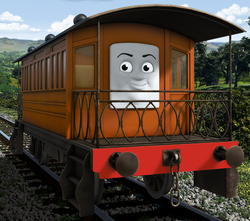 Henrietta
Class: GER Wisbech & Upwell coach
Builder: GER Stratford Works
Built: 1884
Configuration: 4 wheel
Arrived on Sodor: 1951
Henrietta is Toby's loyal coach, who formerly worked with him on an old tramway on the Mainland. She works with him, Hannah and Elsie.
Bio
Persona
Livery
Henrietta is painted orange-brown with her name on her sides in white.
Trivia
In addition to Hannah, she has one other sister left, a bogied version of herself.