"It's also a doubly useful thing to have a hook! I can even go fishing!"
— Harvey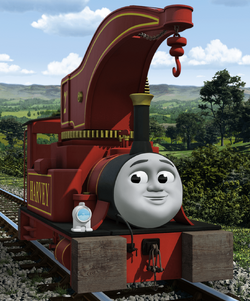 Harvey
Number: 27
Class: Dübs Crane Engine
Designer: Dübs & Co.
Builder: North British Locomotive Co.
Built: March 1954
Configuration: 0-4-0CT
Arrived on Sodor: 1965
Harvey is a Scottish crane tank engine. He is involved in repair, recovery and industrial jobs on the North Western Railway.
Bio
Persona
Harvey is a relentlessly cheery, big-hearted, helpful crane engine with a booming, thoughtful voice. He has a very unusual shape, due to his crane attachment atop his boiler, which he can be sensitive about should other engines make fun of it. However, he is very able to show that his crane is very useful in lifting cargo, trucks, and sometimes some smaller engines. He is happy to work anywhere, ready to help clear up after an accident, and offer words of care, comfort and advice. Due to his strange shape, he sometimes doubts his abilities to do the same jobs as the other engines, such as pulling cargo, but he always proves that he can do any job as good as any "normal" engine.
Livery
Harvey is painted burgundy with yellow and red lining and brown, square, wooden buffers. His name is written in yellow on his sides and the number "27" is written on both sides of his crane arm in yellow.
Trivia
He has a single brother, 4101, nicknamed "Dubsy", on the Foxfield Railway.