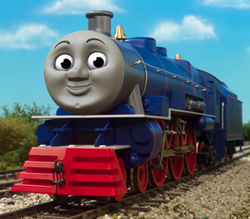 Hank
Number: 22
Class: PRR K4s Pacific
Designers: J.T. Wallis, Alfred W. Gibbs and Axel Vogt
Builder: PRR Juniata Shops
Built: 1919
Configuration: 4-6-2
Top Speed: 90 mph
Hank is a large American tender engine on the North Western Railway. He mostly works on the Main Line.
Bio
Persona
Hank is big, bold, and blue. He may come across as brash in his cheery confidence and enthusiasm, but being the mighty titan he is, Hank is more than used to being easily seen or heard. In his jolliness, he may seem a little goofy and kooky, especially with so many bells and whistles and a cowcatcher, but big ol' Hank has a big ol' heart and is more than happy to buffer up, share, and lend a helping wheel. Using his might, strength, and power to be able to assist others is something that only comes all too naturally to him and he takes it in his stride, without a second thought. Hank can become concerned about his friends though, as he gladly keeps an eye out for the little engines. The only trouble with being Hank is that virtually every engine is little compared to him.
Livery
Hank is painted ultramarine blue with red wheels, lining, and cowcatcher. His smokebox is painted dark grey and he has a brass bell. The number "22" is painted on the sides of his tender in yellow.
Trivia