"Express Coming Through!"
— Gordon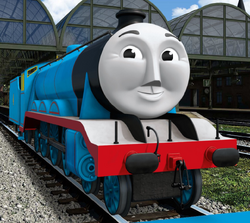 Gordon
Number: NWR 4
Class: GNR "A0" Pacific
Designer: Sir Nigel Gresley
Builder: GNR Doncaster Works, rebuilt LMS Crewe Works
Built: 1921, rebuilt 1939
Configuration: 4-6-2
Top Speed: 100 mph
Arrived on Sodor: March 1923
Gordon, briefly known as "The Shooting Star", is a large blue express engine on the North Western Railway. He works on the Main Line, pulling The Sudrian. He is Spencer's cousin and the last remaining brother of the world famous Flying Scotsman.
Biography
Gordon was built in 1921 at Doncaster Works for the Great Northern Railway, as the prototype for Nigel Gresley's Class A1 Pacifics. In January 1921, authorisation was giving to the construction of three Pacifics, with two conditional on the construction of a successful prototype. Due to previous industrial espionage in 1919 which saw early plans for the design stolen, construction of the prototype was kept a closely guarded secret to prevent the GNR's competitors from gaining an advantage.
Persona
Livery
Gordon is painted in the NWR blue livery with red and yellow lining. The number "4" is painted on the sides of his tender in yellow. Before arriving on Sodor, he was painted in the GNR Apple green livery with white and black lining.
Trivia
Gordon's catchphrase is "Oh, the indignity!"