"Express Coming Through!"
— Gordon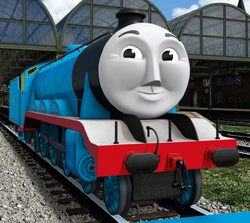 Gordon
Number: 4
Class: GNR "A0" Pacific
Designer: Sir Nigel Gresley
Builder: GNR Doncaster Works, rebuilt LMS Crewe Works
Built: 1922, rebuilt 1939
Configuration: 4-6-2
Top Speed: 100 mph
Arrived on Sodor: March 1923
Gordon, briefly known as "The Shooting Star", is a big blue express engine on the North Western Railway. He works on the Main Line, pulling the Wild Nor' Wester. He is Spencer's cousin and the last remaining brother of the world famous Flying Scotsman.
Bio
Gordon was built in early 1922 at Doncaster Works for the Great Northern Railway, the secret prototype for the soon to be famous Gresley Pacifics. He was tested for several months to perfect the design, resulting in the construction of 1470 Great Northern. After Great Northern's construction, Gordon was rarely used. After grouping in 1923, the new LNER Board of Directors wanted to get rid of him. Thankfully, instead of a scrap yard, the LNER found a prospective buyer in the form of Sir Topham Hatt, recently appointed controller of the North Western Railway, who was looking for a locomotive to haul his railway's main express train. Sir Topham was initially sceptical of Gordon due to past experiences with a Pacific locomotive, and it was only the arguments of Nigel Grseley, and the promise of a spare boiler and firebox at no extra cost, that convinced him to buy him. Gordon departed Doncaster for Sodor in March 1923, less than a month after the construction of the Flying Scotsman. 
Despite his rather important part of railway history, the LNER destroyed the few records they had of him . 
After arriving on the North Western, he quickly proved himself worthy of being the railway's express engine, his speed and strength greater than any engine who had graced the Sudrian rails before him. 
Persona
Livery
Gordon is painted in the NWR blue livery with red and yellow lining. The number "4" is painted on the sides of his tender in yellow. Before arriving on Sodor, he was painted in the GNR Apple green livery with white and black lining.
Trivia
Gordon's catchphrase is "Oh, the indignity!"
Ad blocker interference detected!
Wikia is a free-to-use site that makes money from advertising. We have a modified experience for viewers using ad blockers

Wikia is not accessible if you've made further modifications. Remove the custom ad blocker rule(s) and the page will load as expected.