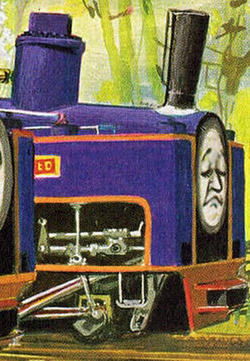 Godred
Number: CFR 1
Builder: Swiss Locomotive and Machine Works
Built: 1899
Scrapped: 1900
Gauge: 2ft 7 1⁄2in
Configuration: 0-4-2RT
Arrived on Sodor: 1900
Godred, named after King Godred, was a pompous mountain engine who worked on the Culdee Fell Railway. He had a coach named Elaine.
Bio
Persona
Godred was careless, reckless, arrogant and self-centred - Culdee believes this may have been because of the nature of his naming. Godred put too much faith in his automatic brakes, despite all the warnings, and paid the ultimate price.
Livery
Trivia
Ad blocker interference detected!
Wikia is a free-to-use site that makes money from advertising. We have a modified experience for viewers using ad blockers

Wikia is not accessible if you've made further modifications. Remove the custom ad blocker rule(s) and the page will load as expected.