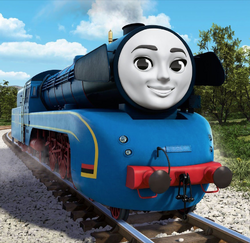 Frieda
Number: 10 001, formerly 409
Class: DB Class 10
Builder: Krupp
Built: 1957
Configuration: 4-6-2
Top Speed: 100 mph
Frieda is a big German engine who participated in The Great Railway Show. She was a contender in the strongest engine competition.
Bio
Persona
Frieda is a sleek, blue streamlined engine from Germany. Beautiful and strong, Frieda entered the Strongest Engine race as its first female contender. She came to the show to prove that anything the boys can do, the girls could do better. Frieda was also a grumpy engine, who doesn't smile that much, and doesn't take mistakes so kindly. She got very annoyed when Ivan got more attention, but the Russian diesel taught her shed needed to be friendlier.
Livery
For the Great Railway Show, Frieda was painted blue with yellow and red lining and red wheels. She had the number "409" painted on the sides of her tender in red, and the German flag painted on both the sides of her streamlined casing and tender.
She is usually painted black with white lining and red wheels. She has black number plates with the number "10 001" in white on the sides of her cab and her front.
Trivia
Ad blocker interference detected!
Wikia is a free-to-use site that makes money from advertising. We have a modified experience for viewers using ad blockers

Wikia is not accessible if you've made further modifications. Remove the custom ad blocker rule(s) and the page will load as expected.