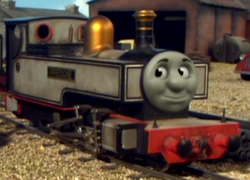 Freddie
Number: SR 7, formerly SR 3
Builder: Hunslet Engine Company
Built: 1906
Gauge: 2ft 3in
Configuration: 2-6-2T
Arrived on Sodor: 1910
"Fearless" Freddie is an old Warhorse engine who is the Number 7 of the Skarloey Railway.
Bio
Freddie was built in 1906 to the same design as Russell, though to a larger gauge for an unknown railway. The railway later cancelled their order, though Freddie's construction had gone so far that Hunslet was left no choice but to finish him and wait for another railway to buy him.
Freddie was left sitting in the Hunslet works for four years, until 1910, when Sir Handel Brown I, the new owner of the Skarloey Railway, came looking for an engine for his railway. Freddie had been built to the Skarloey's unusual gauge and Hunslet, eager to get rid of him, sold him to Sir Handel for a relatively cheap price. Freddie was soon shipped to Sodor, arriving two weeks after his purchase, and was then named after Frederick Mack, the recently deceased former Controller of the Skarloey, and given the number 3.
The Skarloey had recently received a boom of traffic, and Freddie, who was almost as strong as Skarloey and Rheneas combined, was greatly welcomed, though the two older engines found his cockiness and, in their view, recklessness annoying and alarming. Rheneas particularly viewd him negatively as he disliked the supposed intrusion of the young engine on their railway.
Persona
Freddie is the warhorse engine of the Skarloey Railway. In his youth, he was known as "Fearless Freddie" and was the daredevil of the hills, known for being fast, fun, and, of course, fearless. As a result of having worked on the narrow gauge line many years before, Freddie knows the route, as well as many hidden tracks, like the back of his buffers and he can use this to his advantage. Although he is now a much older engine, Freddie is still full of boyish charm, has his wits about him and is always game for a competition. He is chucklesome, will never forget a friend and is still very much capable of giving younger engines a run for their coal.
Livery
Freddie is painted grey with black and white lining, and has a brass dome and funnel top. He has black and gold name and number plates on the sides of his tanks and cab respectively..
Trivia
Russell, on the Welsh Highland Railway, is his brother.