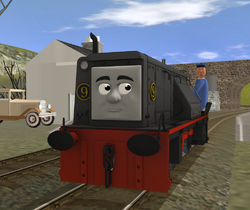 Fred
Number: 9
Designer: Ivo Hugh
Builder: NWR Vicarstown Dieselworks
Built: 1979
Gauge: 2ft 3in
Configuration: 0-4-0DM
Top Speed: 10 mph
Fred is a diesel engine that works on the Skarloey Railway. He does maintenance work with Rusty and usually pulls the Weedkiller Train.
Bio
Persona
Livery
Fred is painted dark grey with red side rods. He has black and gold name and number plates.
Trivia
Ad blocker interference detected!
Wikia is a free-to-use site that makes money from advertising. We have a modified experience for viewers using ad blockers

Wikia is not accessible if you've made further modifications. Remove the custom ad blocker rule(s) and the page will load as expected.