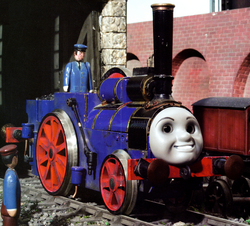 Fergus
Class: Aveling & Porter T9
Designer: Aveling & Porter
Builder: Invicta Works
Built: 1926
Configuration: 2-2-0WT
Top Speed: 8 mph
Arrived on Sodor: 1927
Fergus is a railway traction engine, who works at the Kirk Ronan Cement Works.
Bio
Persona
Fergus knows the rulebook off by heart, and he commonly says "Do it right!" His insistence on doing everything absolutely according to the rules can annoy the other engines, but he is a decent engine at heart and will not hesitate to help others in trouble, even at risk to himself.
Livery
Fergus is painted royal blue with gold boiler bands and red wheels. He has a brass funnel top and bronze buffers.
Trivia