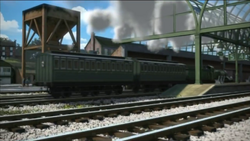 Emily's Coaches
Class: GNR Stirling clerestory coaches
Designer: Patrick Stirling
Builder: GNR Doncaster Works
Built: circa 1900
Configuration: 6 wheel
Emily has a rake of five six wheeld coaches, which form The Victorian express train, which runs between Knapford and Vicarstown.
History
Livery
The coaches are painted emerald green, like Emily, with cream window surrounds and gold lining.
Trivia
Ad blocker interference detected!
Wikia is a free-to-use site that makes money from advertising. We have a modified experience for viewers using ad blockers

Wikia is not accessible if you've made further modifications. Remove the custom ad blocker rule(s) and the page will load as expected.