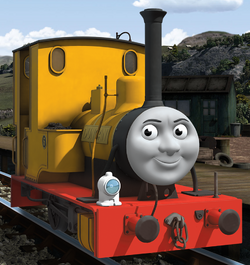 Duncan
Number: SR 6
Class: Barclay E Class
Designer: Andrew Barclay Sons & Co.
Builder: Caledonia Works
Built: 1928
Gauge: 2ft 3in
Configuration: 0-4-0WT
Arrived on Sodor: 1958
Duncan is a Scottish narrow gauge tank engine on the Skarloey Railway. Douglas, on the Talyllyn Railway, is his brother.
Bio
Duncan was built by Andrew Barclay & Co. in 1928 to work in a nearby military factory in Scotland, which is the source of his volatile temper, strong language and manners. He worked at the factory for almost 30 years, until 1957, when the factory closed and he was put up for sale. Sir Handel Brown, owner of the Skarloey Railway, which was in need of another engine after Peter Sam had an accident, soon bought him.
He was sent to the Crovan's Gate Steamworks to be regauged, and soon started work on the Skarloey.
Persona
Duncan has rough manners and a strong temper. He was prone to boisterous bouncing about, which became known as "rock 'n' roll", whenever the mood took him, which caused several incidents. While Duncan means well, he often grumbles and complains, usually about not being polished or being over-worked, and can be rude, rough and bad tempered. He claims to be a plain-speaking engine, an approach which can cause him to make callous or belligerent remarks. Duncan can be a competitive engine too. He can be careless and make rash decisions which usually leads to his own downfall, but is not always quick to apologise or realise the error of his ways. However, upon Skarloey recalling Rheneas' gallant act to get his passengers home, Duncan admitted he had the wrong attitude and now tries hard to be a more useful, respectable engine. In spite of his ways, Duncan can be a little misunderstood as he is focused, confident, resourceful and has a big heart. He is always willing to lend a helping wheel whenever he can.
Livery
Duncan is painted golden yellow with black lining and gold boiler bands. He has brass name and number plates on the sides of his boiler and coal bunkers respectively.
Trivia