"There are two ways of doing things: the Great Western Way, or the wrong way."
— Duck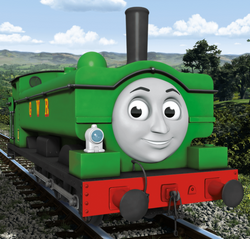 Montague
"Duck"
Number: 8, originally 5741
Class: GWR 57xx 
Designer: Charles B. Collett
Builder: North British Locomotive Co.
Built: March 1929
Configuration: 0-6-0PT
Top Speed: 45 mph
Arrived on Sodor: 1954
Montague, affectionately known as "Duck" due to a supposed waddle, is a Great Western Railway pannier tank engine. He runs his own branch line, known as "The Little Western", with Oliver.
He has three Great Western Slip Coaches, who he calls "Slippies".
Bio
Between 1949 and 1954 he was the station pilot at Paddington Station in London.
Persona
Livery
Duck is painted in the GWR's 1942 Brunswick green livery with black footplate, wheels, splashers and pipes. He has the letters "GWR" written on his pannier tanks in yellow and red, and has the number "8" painted on each side of his cab in yellow, upon a black background with a gold border.
When he arrived on Sodor, he was painted in British Railways unlined black livery with the BR "Ferret and Dartboard" crest on his side. He had brass GWR numberplates with the number "5741". 
Trivia